Conferences a go-go!
Smartmessages' creator Marcus Bointon is a regular speaker at technical conferences around the world. Here's a quick run-down from him of what he's been up to this year…

January 2018: PHP Benelux, Antwerp, Belgium
PHP Benelux is a lovely conference organised by the ever-expanding user group of the same name. It's a really friendly conference that was really welcoming, and I met some lovely people there. I was asked to speak about the history of PHPMailer – this was a talk I'd been wanting to do for a long time, and whereas most technical talks could be done by more or less anyone (including mine), this is one that could only be done by me. For that reason it was quite a personal thing, but something I was really looking forward to doing. This went down very well, and I've repeated that talk at various other conferences. One of the other speakers dropped out due to illness, and I was asked if I could fill in, so I delivered my talk on GDPR, especially relevant in the run up to the May GDPR deadline. Being in Belgium meant, of course, that the selection of beers was unusually good for a conference!
March 2018: ConFoo Montreal, Canada
ConFoo is a great conference! It's been going for a long time and attracts speakers and delegates from all around the world. It's unusual in that it's not about any particular technology, but is meant to cover the full breadth of web and app production, so you'll find Java, PHP, Ruby, Python, C, Swift, and JavaScript developers alongside designers, product managers, linguists, stylists, interaction designers, accessibility specialists, SEO & marketing people. My focus is on PHP development and security (and email of course!), and at ConFoo I was speaking on using libsodium in PHP 7.2 (that's a really good modern encryption library, in case you were wondering; slides here), and repeating my PHPMailer history talk. I'd not been to Montreal before – I found the French wasn't too weird, and it wasn't too cold – but it was odd being in a big city as I normally live in a small town. The conference venue was also the only hotel I've ever seen that has a duck pond on the 12th floor, containing the biggest ducks I've ever seen.
August 2018: LaraconEU, Amsterdam, The Netherlands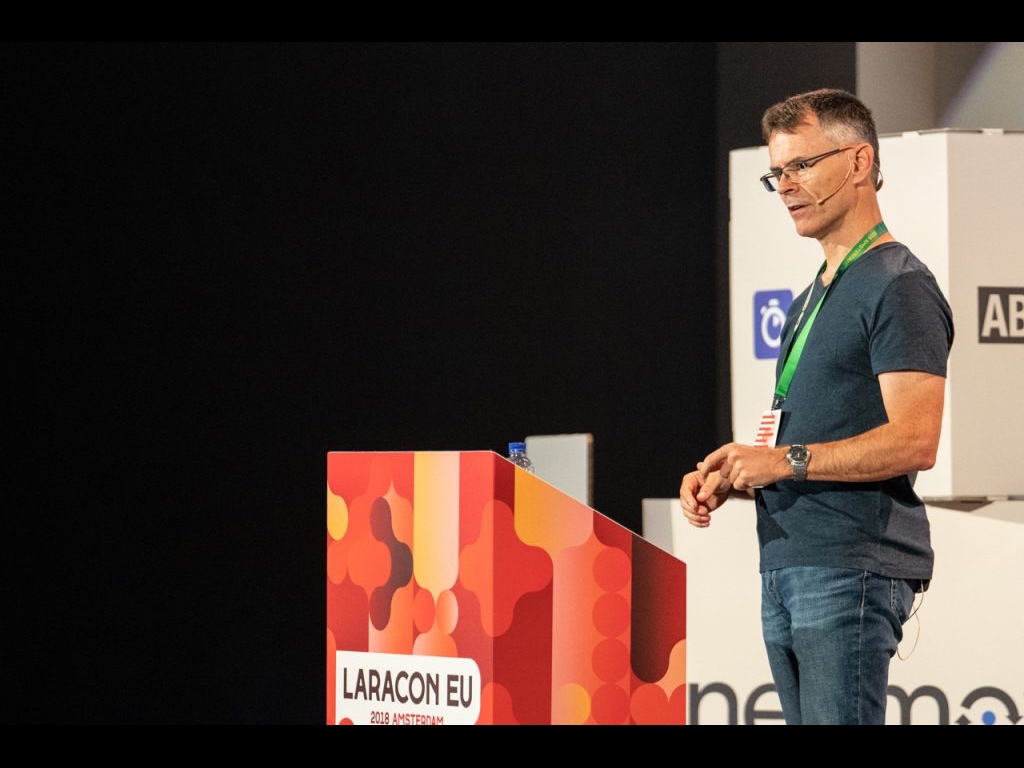 Laracon is a big (>800 vistors), super-focused conference all about the massively popular Laravel PHP framework. As well as talks about core Laravel features, and Taylor Otwell's presentation of Laravel 5.7's new shininess, there were great talks on accessibility, interaction design, localisation, hardware hacking, database optimisation and more. I was asked to repeat my libsodium talk, which I think was possibly a little off-topic for the Laravel crowd, but it went well and I received some good feedback, and for the first time (for me) a video recording of it. One thing that stood out for me was that about 75% of the talks I saw were given by female speakers, which is unusual for a tech conference, and something I commend the organisers for. The venue was amazing – a huge old industrial building right on the waterfront.
October 2018: International PHP Conference, Munich, Germany
IPC is a well-established PHP conference that runs in parallel with the International JavaScript Conference at the same venue, almost like two tracks of one conference. This conference is a bit different in style as it's organised by a conference company (S&S Media) rather than the typical user group origins. The result is a little more formal (compared with say, PHPBenelux), but very well organised, and the S&S Media people were great. I'd never spoken at one of their conferences before, but they jumped in with both feet and asked me to present three talks, including my first keynote! I was again presenting libsodium (video), but also IPv6 (slides). I'd given that talk on IPv6 a few years before at the Dutch PHP conference, and I was a little dismayed to find that so few developers had taken up IPv6 even now! For the keynote I was asked to do my PHPMailer talk again. Being a keynote meant I had no competition from other tracks and faced a full room of about 500 people, which was a little daunting, but this talk had had a few outings by now so I was pretty comfortable with it and it went really well – and here's the video of it! It's exactly the kind of topic that works well as a keynote as it's more of a personal story, so I was very happy to have managed to get it to that point.
So that's my conference story for 2018. All of these talks are a reflection of the work I do on Smartmessages: web development, security, email, open source, networking, documentation and more. I find that researching, writing, and giving talks is a great way of learning about things – that's exactly what I did for libsodium – and I also think my presentation abilities have improved this year too – iteration and practice helps – though seeing my own videos still feels weird!
In March 2019 I'm speaking at ConFoo again, this time on GDPR, and what's new in TLS 1.3. The IPC organisers were so happy with my talks that they invited me to speak at their Berlin edition of IPC in June – without me even submitting to their CFP! Maybe more – I'll have to wait & see…